Lally columns are pretty important to a home. In this episode, the Crackman explains what a lally column is, why it would start rusting, and what can happen if you don't deal with it.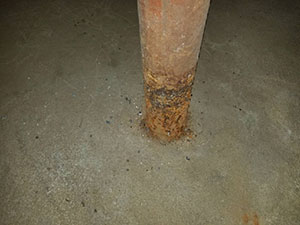 Narrator: It's time once again for the "Crack Man Podcast" hosted by A1 Foundation Crack Repair. I'm Darren Kincaid here with the Crack Man himself, Rich Comeras. Rich has 30 years' experience in the construction industry and over 25 years as the president and founder of A1 Foundation Crack Repair. This podcasts provides expert basement waterproofing, concrete repair, and preventative maintenance tips for homeowners and businesses. A1 Foundation's valuable insight will help avert a disastrous flood within the basement, health problems associated with water infiltration, and protect your biggest investment….your home. The topic of today's podcast: Why are my Lally columns rusting out?
Narrator: So Rich, Lally columns are pretty important to a home, why would they be rusting out and what can happen if you don't deal with it?
Rich: Well, first of all, Lally columns are the poles that go up and down from the floor on up, usually to a main support beam. In the old days they used tree trunks or whatever they had available. They've replaced those with metal Lally columns. The correct ones are the ones that have metal and concrete filled on the inside.
We've been getting calls all the time now about them. Just got one yesterday from Lexington. I think a few days ago, I got another one from Manchester, New Hampshire. We're getting them all over - New England, Rhode Island, that people's Lally columns, especially the metal ones, they're rusting. Maybe because people are more concerned about the structure after what had happened in Florida with the collapse. What I'm told by the engineers is, you will lose a third of the strength. That's right, a third of the strength of the Lally columns, if it's rusted. When you're selling a house, or you want to maintain your structure, if you don't want to lose a third of the strength, or you want to sell your house, you need to make sure that those Lally columns are not rusted.
So, what we would do, and the correct way to install a Lally column is you need to break the floor, the proper dimensions, and also you have to dig down where you break the floor, and we put high strength concrete. We put steel rebar in it, we let that set up. And then what we do is we put a barrier on top of the footing, which is a piece of concrete that equals out the pressure so that water won't come up because moisture works right up inside concrete When moisture works up it will rust from the inside out. Sometimes it's so bad, it looks like metal is bubbling off.
So, we replace those with permanent Lally columns that have a way to stop the moisture from working up. Also, if you have those temporary ones, those are the ones with the screw jack, by code they're only supposed to be there 180 days. So, if you do run into a Lally column issue or concern, feel free to get a hold of us.
Narrator: Very good, Rich. Thanks for explaining why a Lally column will start rusting and what can happen if they don't deal with it.
Narrator: If you have a basement water problem and think you need a professional, or, if you'd like more information on foundation crack repair and basement waterproofing topics, please visit A1FoundationCrackRepair.com or call Rich at (866) 929-3171. Or you can email Rich at info@a1foundationcrackrepair.com. Thanks for listening and keep that basement dry.