This episode comes with a picture on the blog post atA1 Foundation Crack Repair Blog. It shows a home that was devastated by a Nor'easter. The foundation was ripped from the bottom of the house. The damage is massive! The Crackman explains.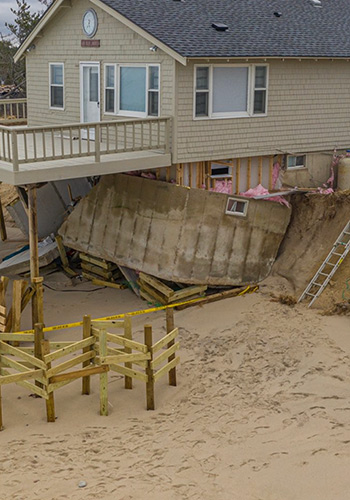 Narrator: It's time once again for the "Crack Man Podcast" hosted by A1 Foundation Crack Repair. I'm Darren Kincaid here with the Crack Man himself, Rich Comeras. Rich has 30 years' experience in the construction industry and over 25 years as the president and founder of A1 Foundation Crack Repair. This podcasts provides expert basement waterproofing, concrete repair, and preventative maintenance tips for homeowners and businesses. A1 Foundation's valuable insight will help avert a disastrous flood within the basement, health problems associated with water infiltration, and protect your biggest investment….your home. The topic of today's podcast: Nor'easter devastates foundation of home in Sandwich MA.
Narrator: So Rich, The Crackdaddy sent me a picture of a house that has to be condemned. I mean, it's amazing. It looks like the foundation was ripped from the bottom of the house. The devastation is massive. What happened here?
Rich: Well, we had a Nor'easter and this happens every once in a while on houses that are right on the coast. This happened, as you said, in Sandwich MA. And water came in, Mother Nature took that foundation out, which is a poured concrete foundation. And what's interesting is if you look carefully at the picture you can see there's a crack right where the window is. Off of the corner of the window, it is sheared there. There are some solutions to this problem. If you have that inkling to buy a house on the water, you might want to hold off and the solution would be to rent one. You don't have to worry about this sad situation. Also, the other solution that people do if they want to buy one on the water, what they do is they put helical piers into the ground, and they build on top of those.
Though concrete is strong, Mother Nature is stronger. This happens down at Cape Cod all the time where we have these issues. I've seen some real devastation also in Scituate, where actual boulders that came in from the ocean took out some houses. Boulders were sitting in the middle of the road.
We've done work to save some foundations that were there a few years back. So, it's something that happens in New Hampshire, Rhode Island, Connecticut, in Massachusetts for sure.
Narrator: Wow, thanks Rich for sharing this amazing case study. Nor 'easterners are incredibly destructive, especially when you look at all the erosion that happens when one comes in.
If you have a basement water problem and think you need a professional, or, if you'd like more information on foundation crack repair and basement waterproofing topics, please visit A1FoundationCrackRepair.com or call Rich at (866) 929-3171. Or you can email Rich at info@a1foundationcrackrepair.com. Thanks for listening and keep that basement dry.