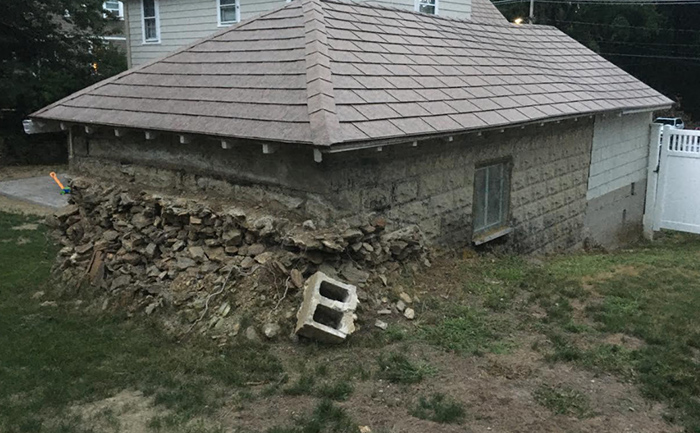 Suppose a homeowner thinks they have a good reason to dig out the dirt surrounding a home's foundation. Is it a good idea? The CrackDaddy, Adam Tracy, explains why digging out the dirt around a home's foundation could lead to catastrophic results.
Narrator: It's time once again for the "Crack Man Podcast" hosted by A1 Foundation Crack Repair. I'm Darren Kincaid here with the Crack Daddy himself, Adam Tracy. Adam and The Crack Man Rich have over 30 years' experience in the construction industry. Rich as over 25 years as the president and founder of A1 Foundation Crack Repair. This podcast provides expert basement waterproofing, concrete repair, and preventative maintenance tips for homeowners and businesses. A1 Foundation's valuable insight will help avert a disastrous flood within the basement, health problems associated with water infiltration, and protect your biggest investment….your home. The topic of today's podcast: What is the worst that can happen if I dig out around my foundation?
Narrator: So, Adam, I suppose a homeowner might think they have a good reason to dig out the dirt surrounding a home's foundation, but is it a good idea?
Adam: Generally speaking, no. There are a couple very good reasons why. We've run into that situation a handful of times recently here, particularly in properties that have block foundations and/or older foundations. There's a typical crawl space cottage type of house, it actually happened to be right looking down the lake.
The homeowner of previous years, whether it was recent or not recent, we don't know, thought it was a great idea to create, instead of a crawl space, but a full basement. So, in theory, it's a very simple idea, you dig down until you have a full height. The problem is that foundation wall was never put all the way down the standing height. Typically, these foundations are only down below the crossline. So, you're looking at maybe 4 feet, and in certain areas around here you don't have to go that far, you can go down to 3, 3 and a half feet of a standing height foundation.
Why is this an issue? Well, the soil is part of the structure that bears the weight of the house structure above. So, as you start to cut that away, you remove what's called the "cone of compression". It's an engineering term that basically creates a triangle out the bottom of the foundation wall. And so, you're cutting half of that triangle out so the actual weight of the house cannot be distributed across the area. So in one of the houses, we looked at recently, half of the foundation wall was starting to collapse inward because the soil was no longer able to support anything and it's starting to crumble away.
The homeowner gets very nervous about the situation and asks what we can do. Unfortunately, there's not a whole lot you can do to save that wall, you have to basically either rebuild it, re-pour it, or put a buttress wall in there to really kind of sturdy it up. So, the idea of digging out a foundation by hand, not always a very appealing idea, but it's also going to be very dangerous, if it's done improperly. So if it's something that you really want to consider, turning your crawl space into a foundation, please get a professional to do it, make sure that they're licensed and insured, because these things can collapse and, doesn't really take that much to do so.
Narrator: Well thanks Adam for explaining why it could be a really bad idea to dig out the dirt around a home's foundation. Just don't do it.
Narrator: If you have a basement water problem and think you need a professional, or, if you'd like more information on foundation crack repair and basement waterproofing topics, please visit A1FoundationCrackRepair.com or call Rich at (866) 929-3171. Or you can email Rich at info@a1foundationcrackrepair.com. Thanks for listening and keep that basement dry.