In his 25 years as the Crackman, Rich has seen a flooded basement or two. If a homeowner went down to his man cave and found a soaked carpet, step one would be to issue a torrent of expletives. What should the next step be?
Narrator: It's time once again for the "Crack Man Podcast" hosted by A1 Foundation Crack Repair. I'm Darren Kincaid here with the Crack Man himself, Rich Comeras. Rich has 30 years' experience in the construction industry and over 25 years as the president and founder of A1 Foundation Crack Repair. This podcasts provides expert basement waterproofing, concrete repair, and preventative maintenance tips for homeowners and businesses. A1 Foundation's valuable insight will help avert a disastrous flood within the basement, health problems associated with water infiltration, and protect your biggest investment….your home. The topic of today's podcast: What do I do if my finished basement floods?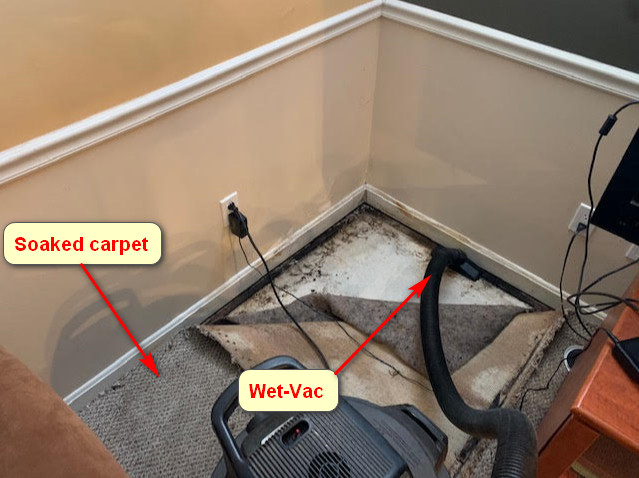 Narrator: Now Rich, in your 25 years as a Crackman, I can imagine you've seen a flooded basement or two in your time. If I went down to my man cave and found a soaked carpet, step one would be to issue a torrent of expletives. What should step two be?
Rich: Well step two is turn off the faucet where it's leaking, but most of the time it's a crack in a foundation, a tie rod that's leaking. Or it's a foundation issue especially if it's near where the wall, the outside wall is.
I have just gotten a call from somebody and he has sent me a picture of it, which you'll see on our website. Finished basement, a leak in the corner. Nice finished basement with carpet. He actually did say that there was a mushroom, there is something growing once you pull the carpet up a little bit. So, it has leaked quite a bit before.
First thing you want to do is go outside and you want to take a look at the concrete that's above grade and see if there's a crack. If there is a crack there, you can bet that crack goes all the way through and the water's coming in through there. Also something you may want to do is to make sure that if there's a downspout from your gutters, that that water runs away from foundation, maybe put an extender on it. So once you find out where it's coming from, that's when we come in and we can solve that problem, so that the water's not going to come from that crack anymore.
In the meantime, what you want to do is pull that carpet up. At least on where it's wet, get some chairs under it, start some fans going, if you have a dehumidifier, get that going. Because mold starts to grow between 24 and 48 hours. Now it may not be visible for 18 to 21 days or even as long as 3 to 8 weeks, it could show up. So you start to get that carpet dry underneath, if you have a wet vac, suck up as much water as you can, pull that carpet up, get it drying. Then what you want to do is to dry things out as I have said, maybe the baseboard, you want to get rid of that sheetrock that got wet, maybe the bottom foot of it, and you want to clean and sanitize that whole room. Because it's mold spores that get airborne and can latch onto things and then have a very serious problem. So, the cracks can be repaired. When the waters coming in, dry everything up, extract the water, and sanitize it. And that would be my recommendation when you run into a wet finished basement.
Narrator: Ok Rich. Thanks for coming with steps to take basement flood. I guess you don't have to panic, just call The Crackman and he'll take care of it for you.
If you have a basement water problem and think you need a professional, or, if you'd like more information on foundation crack repair and basement waterproofing topics, please visit A1FoundationCrackRepair.com or call Rich at (866) 929-3171. Or you can email Rich at info@a1foundationcrackrepair.com. Thanks for listening and keep that basement dry.