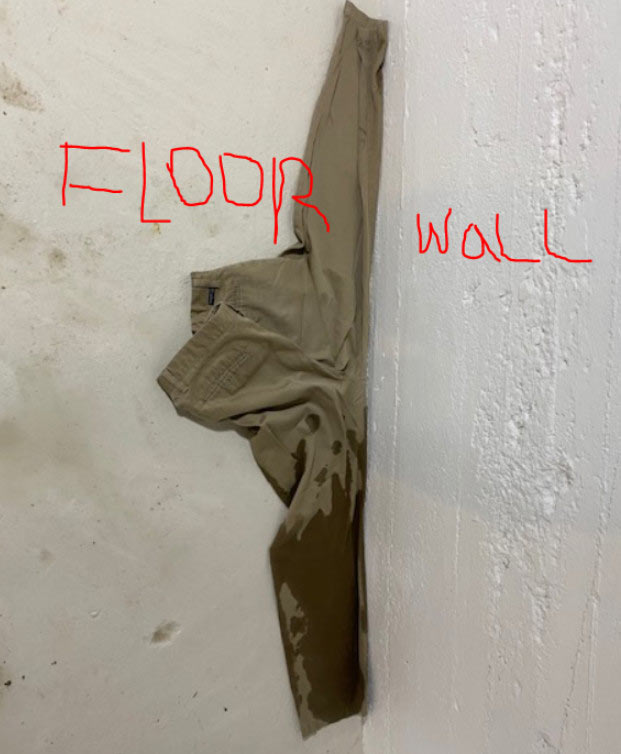 The Crackman receives a lot of interesting pics of basement problems. In this episode, Rich explains a picture that shows a pair of pants that are spread across the seam between the floor and wall and they're wet.
Narrator: It's time once again for the "Crack Man Podcast" hosted by A1 Foundation Crack Repair. I'm Darren Kincaid here with the Crack Man himself, Rich Comeras. Rich has 30 years' experience in the construction industry and over 25 years as the president and founder of A1 Foundation Crack Repair. This podcasts provides expert basement waterproofing, concrete repair, and preventative maintenance tips for homeowners and businesses. A1 Foundation's valuable insight will help avert a disastrous flood within the basement, health problems associated with water infiltration, and protect your biggest investment….your home. The topic of today's podcast: What can I use to stop a floor/wall seam water leak in my basement? A case study in Wellesley, MA
Narrator: So Rich, you've sent a lot of interesting pics of basement water problems but this one needs explaining, I think I'm looking at a pair of pants that are spread across the seam between the floor and the wall, and they're wet. What's going on here?
Rich: Well I had a call from a gentleman in Wellesley, MA, and he asked me if I could help him because he's got water coming in where the cement floor and the cement wall meet. And he was afraid it was going to move to his finished basement, he said, what can I do right now? I said, if you have towels or kitty litter or a blanket or even rags or anything, put it down in front of it. Send me a picture of what you have so I can clearly identify what's going on.
One of the pictures he sent me was of this pair of pants with the legs spread apart and they're wet. Humorous photo, but I got his point. This happens quite often where the floor and the wall meet, it leaks. Why does it happen and what we can do is what we're going to talk about.
Why it happens is because it's a footing, a white piece of concrete that's poured going all the way around your house where they're going to put the walls. They let that concrete set up, then they come and they put the walls up there - the concrete walls. They pour those walls between two pieces of wood and those set up, and they pull those, the wood, so you see the concrete walls. Then what happens, you have the people coming and they pour the floor, and all these concrete pieces, they don't bond together quite the way you would like it.
And with the floor, what happens is the floor has water in it and the water evaporates, and it shrinks, and there's a gap where the floor and the wall meet. And what happens is water sometimes, if you don't have great drainage or they didn't clean the soil off of the footing, water will seep in underneath that floor and then pressure will bring it up between the floor and the wall.
So, what we do is put our ports in and then inject (using an electric pump) a closed cell polymer resin material. Or, we can use a crystallized quartz based material. We can repair that with a warranty. We did that job for that gentleman in Wellesley, MA and he was very happy, take a look at the picture and I think you'll get a kick out of it.
Narrator: Very cool, Rich. Thanks for explaining how to deal with a basement water leak between a floor and a wall seam. And I guess it goes without saying, a pair of pants is not the best method for stopping that leak.
If you have a basement water problem and think you need a professional, or, if you'd like more information on foundation crack repair and basement waterproofing topics, please visit A1FoundationCrackRepair.com or call Rich at (866) 929-3171. Or you can email Rich at info@a1foundationcrackrepair.com. Thanks for listening and keep that basement dry.
Trackbacks (0)
|
Permalink
|
|