Over the years, we've covered a ton of DIY disasters but this case study involves a contractor who bit off more than he could chew.  Adam explains what can happen if you start digging around your foundation without the expertise to do so.
Narrator: It's time once again for the "Crack Man Podcast" hosted by A1 Foundation Crack Repair. I'm Darren Kincaid here with the Crack Daddy himself, Adam Tracy. Adam and The Crack Man Rich have over 30 years' experience in the construction industry. Rich as over 25 years as the president and founder of A1 Foundation Crack Repair. This podcast provides expert basement waterproofing, concrete repair, and preventative maintenance tips for homeowners and businesses. A1 Foundation's valuable insight will help avert a disastrous flood within the basement, health problems associated with water infiltration, and protect your biggest investment….your home. The topic of today's podcast: What are the hazards of incorrectly installing a lally column?
Narrator: So, Adam, over the years you've covered a ton of DIY disasters, but this case study involves a contractor who bit off more than he could chew. What happened here?
Adam: Well, we got the panicked phone call from a homeowner who actually had a three-unit multi family and they were in the process of repairing one full wall of the foundation, where one wall has become compromised and they needed to basically support the structure of the house and then add in some columns there, and then once the columns were in place, replace that wall. It was a fieldstone foundation and then brick above grade, and what had happened was in the process of supporting the house which would have involved digging out close to the wall, the contractor unfortunately undermined the entire fieldstone foundation on that portion of the wall.
What had happened was that the entire stone structure caved in on this particular foundation wall. One of the big considerations when we work in older homes is that sometimes you don't know how the walls are going to react and we don't know how and what's buried underneath the floor a lot of times too. So we have to do some investigative work to figure out where it's safe to dig, where it's not safe to dig, where we can put columns relative to where it's needed and making sure that we're not undermining anything.
A lot of times we get columns that end up going close to chimney structures and we can't just dig right up against them because you could cause a chimney collapse, and obviously that's connected all the way through the center of the house. In this particular case, we have a complete loss of a wall here. The entire structure, about 30 ft. left to right, had been completely undermined. And what happens is that once one stone starts to go, it's almost like a Jenga tower and the whole thing goes with it because that one critical stone that moves could be the entire structure piece, the keystone that holds it all together, you just don't know.
This particular contractor got in a really tough shape here, and had to do emergency bracing to be able to support this wall. All the tenants and all three family units there had to get removed from the property for temporary housing. This is probably going to take 3-4 weeks to do a full reset of the foundation, to have it inspected and have it looked at by the building department, making sure that it's safe for occupancy. So a single miss and a whoops on a particular contractor, or potentially a homeowner who decides to do it themselves can have huge consequences here.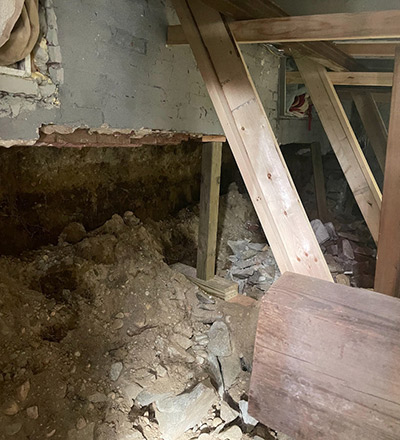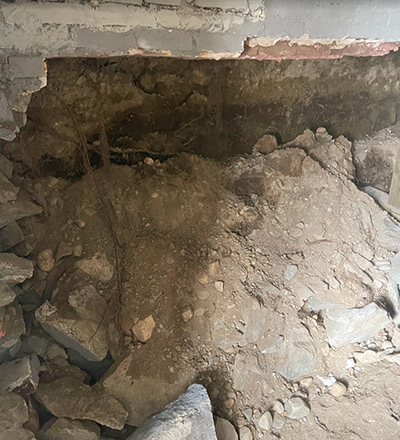 Making sure that the contractor that you're working with is experienced in this, making sure that they've done these types of products before, making sure that they are insured, so that way that there's no liability to you because this is clearly not the homeowner's fault, it's important here because we can really cause, obviously in this case major damage and a major safety concern and really displacing multiple families in the winter time, which is obviously a terrible situation. So unfortunately we weren't able to help, the project was beyond what we typically do, but they're going to have to find a contractor to rebuild an entire side of their foundation wall in a hurry. Probably faster than the schedule they anticipated just to return the property to a safe living condition.
Narrator: Well, I guess that contractor, his pucker factor was probably in a major way there. So thanks Adam, for warning of the hazards of incorrectly installing lally columns.
Narrator: If you have a basement water problem and think you need a professional, or, if you'd like more information on foundation crack repair and basement waterproofing topics, please visit A1FoundationCrackRepair.com or call Rich at (866) 929-3171. Or you can email Rich at info@a1foundationcrackrepair.com. Thanks for listening and keep that basement dry.