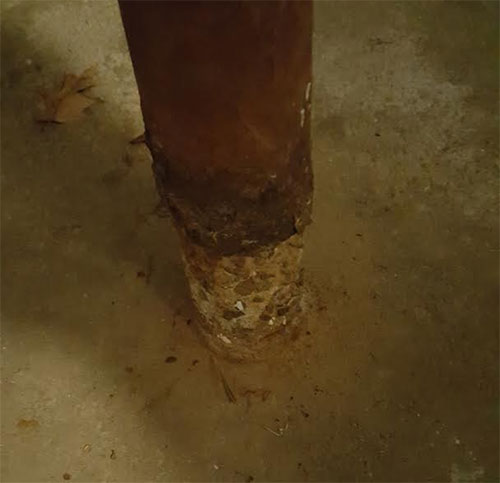 In this episode, Adam has another interesting case study about a customer who was concerned about a rusting lally column. He explains how important it is to maintain one's lally columns.
Narrator: It's time once again for the "Crack Man Podcast" hosted by A1 Foundation Crack Repair. I'm Darren Kincaid here with the Crack Daddy himself, Adam Tracy. Adam and The Crack Man Rich have over 30 years' experience in the construction industry. Rich as over 25 years as the president and founder of A1 Foundation Crack Repair. This podcast provides expert basement waterproofing, concrete repair, and preventative maintenance tips for homeowners and businesses. A1 Foundation's valuable insight will help avert a disastrous flood within the basement, health problems associated with water infiltration, and protect your biggest investment….your home. The topic of today's podcast: My lally column is badly rusting. At what point should I be concerned?
Narrator: So, Adam, you have another interesting case study for us today, this time about a customer who was concerned about a rusting lally column. What can you tell me about it?
Adam: Well, we get this question a lot from customers and homeowners. At what point should their lally column be considered for replacement with signs of rust? A lot of times we get this question where people are concerned about their garage spaces because there's usually a lot of heavy rusting in the garage spaces. I do have a photo here and this is from a customer in Westford, Massachusetts who sent over a couple of photos, I had some concerns with it. This is excessively rusted. In fact, the entire bottom 6 inches of the lally column steel are completely gone. So is this a sign? We're seeing this a lot more and more often, especially in the garage spaces, this happened to be in the garage.
What's going on here? Why are we seeing so much more now than we saw 15, 20, 30 years ago? Is it just that they're not making them as well as they used to? Is there something going on in the environment? What's at play here? Well, if you looked at a house that was built in the 1930s and 40s, they would have thick steel walled lally columns. Sometimes they wouldn't have them filled at all, it would just be a steel pipe that would support the house. As the technology has improved and the testing methods improved, we're able to get away with less steel and actually having more concrete and higher strength concrete that fills essentially the pipe of a lally column.
The wall thickness of a lally column of the steel is actually pretty thin. I do have a cutaway section here that you might be able to see, it's really only about a 16th to an 8th of an inch thick here, depending on what kind of lally column you're buying. So it does not actually have a very thick steel wall for the overall lally column, because the concrete is doing a lot of the work and it works in conjunction with the steel holding it all together. So when you lose the steel or you have excessive rusting on the steel, engineers will tell you you're going to lose anywhere from 30-50% of the overall strength of the column. That's a big issue there.
Why are these ones rusting more often and having more aggressive rust than the ones that we're putting in the 30s and 40s? And it isn't just a case of, "well, they made things better back then". Really what it is, is that we're able to get away with a thinner steel wall because of the improvements in concrete construction and manufacturing, and the other part too is how we treat our roads, especially in the Northeast. In the Northeast, a lot of towns and cities will pre- treat the roads when we know that there's going to be an ice storm or snowstorm involved. And then you're not using regular table salt like they were back, or sand, back then. We're using, you know, more aggressive de-icing techniques, specifically calcium chloride. Calcium chloride brines and that blue kind of salts that they put on the roads to help keep the ice away, they melt at a much lower temperature, so that way the road stays ice free.
The problem is they're very caustic and they will aggressively rust all sorts of metal, that's why our cars are rusting out a lot faster now. And also why, especially when we bring our wet cars that have been going through these salty solutions and they get into the garage space, that water will actually push around and give an aggressive rusting on these. So this one is too far gone, you cannot save this one. It absolutely has to be redone. This one is dangerously undersized at this point, so we would need to replace this one with a permanent column. And really, to protect that against the rusting, you want to make sure that you're painting it every couple of years and knocking off any surface rust on it.
This is a good example. Hopefully you don't have one as bad as this, but if you do have concerns, you can certainly call us and we can help you guide through.
Narrator: Thanks Adam, for sharing this case study and explaining how important it is to maintain one's lally columns.
Narrator: If you have a basement water problem and think you need a professional, or, if you'd like more information on foundation crack repair and basement waterproofing topics, please visit A1FoundationCrackRepair.com or call Rich at (866) 929-3171. Or you can email Rich at info@a1foundationcrackrepair.com. Thanks for listening and keep that basement dry.