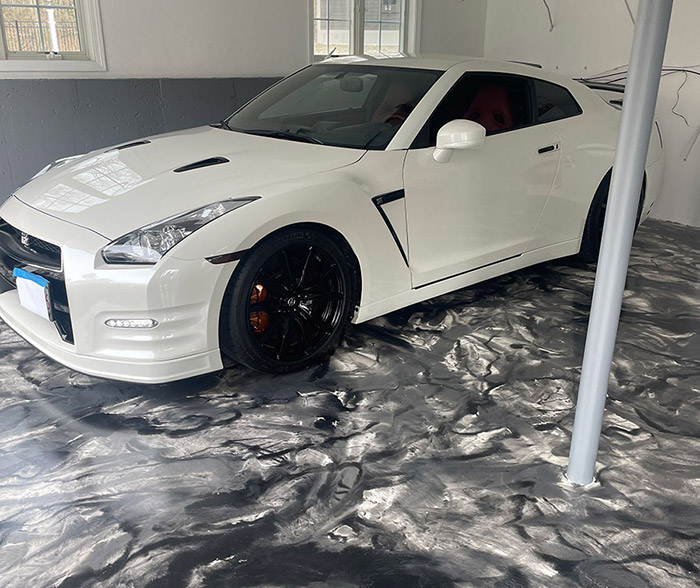 It seems to be a fad these days to lay down a fancy epoxy resin over the garage floor to spiff it up and cover up blemishes. Seems like a nice upgrade; but, is it a good idea from a concrete maintenance perspective?
Narrator: It's time once again for the "Crack Man Podcast" hosted by A1 Foundation Crack Repair. I'm Darren Kincaid here with the Crack Daddy himself, Adam Tracy. Adam and The Crack Man Rich have over 30 years' experience in the construction industry. Rich as over 25 years as the president and founder of A1 Foundation Crack Repair. This podcast provides expert basement waterproofing, concrete repair, and preventative maintenance tips for homeowners and businesses. A1 Foundation's valuable insight will help avert a disastrous flood within the basement, health problems associated with water infiltration, and protect your biggest investment….your home. Is it a good idea to epoxy a basement or garage floor?
Narrator: So, Adam, it seems to be a fad these days to lay down a fancy epoxy resin over the garage floor to spiff it up and cover up blemishes. Seems like a nice upgrade. But is it a good idea from a concrete maintenance perspective?
Adam: So, we get this question a lot and we're seeing a lot of increased demand in epoxy in garage floors. Just like basements have become an extension of the living space for a lot of people, a lot of homeowners are using their garage more than just the place where they park their car.
It becomes, and again, an extension of their home, you know, workshops, you know, sometimes play areas, sometimes it's the man cave. So, we get a lot of questions on how do I make this look better? Maybe it's a house that's 50 years old, maybe it's a brand new house and they just have a plain concrete floor. And so there's a lot of companies out there, there's a lot of misinformation out there on epoxy floor and epoxy floor systems. And you can kind of get confused as to how to even approach this thing because you can go to the home hardware stores and go buy floor paints for concrete and put that down yourself or you can work with a contractor, and it's really important to understand what you're getting at each type of level of expense.
In general, epoxy floor systems have to be done well to be worth the investment. Most times when a homeowner does it themselves or they hire a company that does like a one day epoxy floor system, it doesn't have a long life of the concrete. And the primary reason why is that there's always moisture in concrete, whether it's been poured seven years ago or the fresh pour this past spring, there's always going to be inherent moisture in the concrete. Also, there's going to be moisture transmission from the ground through the concrete up into the garage space. And what happens with this, and we see it in foundation walls as well, is that it will peel the paint.
If you're going to use a latex based paint or you're going to use the one gallon cans that you can buy from a big box hardware store, those are going to go down great. It's going to look great for a season or two, but it's really going to start to peel up as the years go on and it's really an inferior product. It does the job of covering it, but it's really, again, a short term life to it. But the cost of entry is really low. Part of the reason why this issue happens, especially in New England, is that any sort of salt sprays, if you're treating your driveway, if that gets into the concrete area, it starts to pit that epoxy paint and it starts to pit the latex based paints that are there. So really, it's a very short life on those homeowner kits and the really thin epoxy layers. You might see contractors pitch coming in and doing a system in one day, and yeah, they can put it in one day. The thickness of that epoxy layer is typically less than 5 to 8 millimeters.
If you're watching the video here, this is the thickness of the layer here, so it's very, very thin. This is a piece of cardboard MDF and then there's a small thin layer of epoxy. So this is what you're going to get on most one day garage installs. Again, it will look great, it has a very nice pattern to it, it looks clear, it has a nice shine to it. But the problem is that, because of how thin it is, it's very susceptible to all these issues with concrete, as well as issues with salts and minerals from treating roads.
When you start to get into the higher grade epoxy floors, you start to spend a lot more money. Obviously, when you spend more, you're getting more though.
And this type of epoxy system is about 50 to 60 millimeters thick, so you're looking at anywhere from 8 to 10 times the thickness of an epoxy floor. And usually these are modified polymers in addition to having an epoxy top layer, so you can still get the same beautiful high gloss look, but you have a lot of layering in between the concrete and the actual top epoxy layer, which would really allow it to grow and lengthen the time in which you can enjoy the space. Now, there is maintenance that you'll have to do from time to time. You can't just use it year after year after year without cleaning it, and you know, sometimes potentially a little touch up. But for a good epoxy floor system, you should be expecting to spend, you know, a little more than you would be comfortable with than a big box retailer or a one day guy. But you really get the 10, 15 year, 20 year life that you would want out of it versus having to do it every 2 to 3 years on the less expensive systems.
So, it's a great way to protect your concrete. It's a great way to spruce up a downstairs space or a garage space. But if your goal is to make it look nice and last a long time, you really need to be aware that it's going to cost you a little bit more than you probably thought if you were going to hunt for prices at a box retailer. But again, at the end of the day, you're going to get a much better product. So overall, epoxy floor systems, if done well; they can last a long time, but you have to really make sure you shop around to get the right teams in there to be able to do that job.
Narrator: Very interesting, Adam. Thanks for sharing your thoughts on putting down epoxy on concrete floors.
Narrator: If you have a basement water problem and think you need a professional, or, if you'd like more information on foundation crack repair and basement waterproofing topics, please visit A1FoundationCrackRepair.com or call Rich at (866) 929-3171. Or you can email Rich at info@a1foundationcrackrepair.com. Thanks for listening and keep that basement dry.