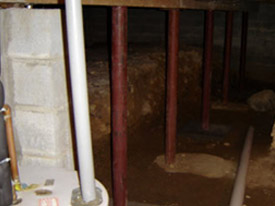 Narrator: It's time once again for the "Crack Man Podcast" hosted by A1 Foundation Crack Repair. I'm Darren Kincaid here with the Crack Man himself, Rich Comeras. Rich has 30 years' experience in the construction industry and over 25 years as the president and founder of A1 Foundation Crack Repair. This podcasts provides expert basement waterproofing, concrete repair, and preventative maintenance tips for homeowners and businesses. A1 Foundation's valuable insight will help avert a disastrous flood within the basement, health problems associated with water infiltration, and protect your biggest investment….your home. The topic of today's podcast: How to monitor suspicious, leaking basement wall cracks and avoid disaster? A case study in Weston, MA.

Narrator: So Rich, if you've got a suspicious wall crack and don't want to invest in fixing it right now, how do you monitor it for leaking without sitting right in front of it and watching it?
Rich: Well, there's a few different ways. One is to run a garden hose. Put a garden hose outside, turn it on if you can see where that area is. If it's leaking, oftentimes you'll see a crack on the outside above grade. And when you run the water, by the way, run it for 45 minutes, turn it off for 15 minutes, do it once, twice, or three times. It could show up in five minutes, maybe much longer. That's one way.
The second way, is to set up a monitor camera. You could set that up, set it up near that crack and keep an eye on it and you'll see if water comes in. Now, a third way to do it would be to put a little device, an alarm on the foundation floor. You can pick them up at Home Depot. It will ring if there's moisture or water touching it.
This reminds me of a situation we ran into in Weston, MA. A woman had a crack in the foundation which we fixed. No problem, stopped that water from coming in. And as my technician was there, he noticed that there was another crack about eight yards away or so. And he had mentioned that it was a good idea to get it repaired because water can move. She didn't want to spend the money to do it.
So my technician told her, you could do one of these things and see if it leaks. So, she got one of those alarms over at Home Depot that you put on the floor, and lo and behold, she was upstairs, it had gone off. She called me and wanted us to come back out to fix that crack. Well if you get one crack done and there's another one fairly close to it, it may be a good idea to get the second one done.
Narrator: Thanks for that information, Rich. I don't think you've ever covered this subject in your six plus years of podcasting. Thanks for that. If you have a basement water problem and think you need a professional, or, if you'd like more information on foundation crack repair and basement waterproofing topics, please visit A1FoundationCrackRepair.com or call Rich at (866) 929-3171. Or you can email Rich at info@a1foundationcrackrepair.com. Thanks for listening and keep that basement dry.
Trackbacks (0)
|
Permalink
|
|